Description


BLACKROLL RECOVERY PILLOW
Ergonomic shape allows 4 sleeping positions

Suitable for at home and on the go

Made in Germany - manufactured according to

OEKO-TEX

®

STANDARD 100

Handy and hygienic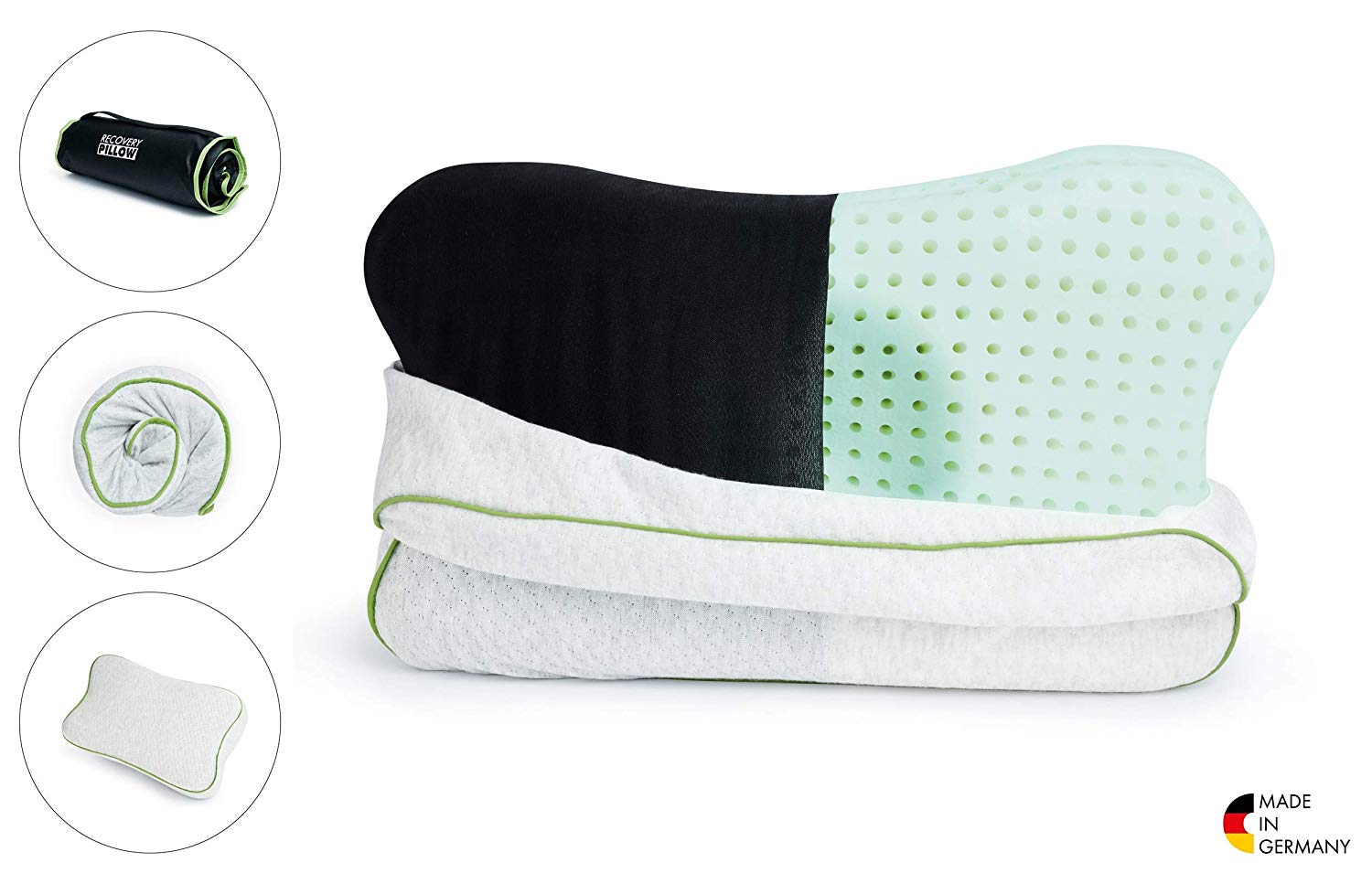 WHY A
BLACKROLL
®
RECOVERY PILLOW?
Many people cannot fall asleep or sleep throughout the night, which is why they feel tired, dull, and listless in the morning. Those who suffer from sleep disorders often go for coffee, sweets, or soft drinks during the day to stay awake to some extent.
Caffeine and sugar in turn boost the cortisol level, which can disrupt your day-night rhythm. Cortisol is a stress hormone that inhibits the formation of the sleep hormone melatonin. Melatonin is released after dusk, especially between midnight and 2 in the morning.
The sleeping environment can also disturb your sleep. This is not just your mattress and pillow, but also (blue) light sources (smart phones, laptops) that promote the release of cortisol.
What many people do not know: chronic sleep disorders not only affect our cognitive abilities – they can also affect physical fitness. You need sleep to be awake and fit during the day.
Sleep routines help you to sleep better at night. These include, above all, reducing the amount of caffeinated and sugary beverages and food, switching off disturbing light sources in the bedroom and adhering to fixed bedtimes in order to harmonize the circadian rhythm. The right pillow is also essential for a restful sleep.
This is why BLACKROLL® has developed a pillow to ensure optimal sleeping conditions. The RECOVERY PILLOW is not only small, handy, and incredibly light - it can also be rolled up to save space, so you always have the pillow with you when you travel. For your sleep routine - everywhere.
WHAT ARE THE ADVANTAGES OF
THE BLACKROLL
®
RECOVERY PILLOW?
The BLACKROLL® RECOVERY PILLOW is extremely small and handy, just 50 cm x 30 cm. Due to its dimensions and the fact that you can roll up the pillow in a few easy steps, you always have your personal relaxation and recovery tool with you. Especially when traveling, so you sleep better in strange beds and feel at home. Constant sleeping conditions and sleep routines ensure a healthy sleep, so you are awake and rested in the morning.
Since the pillow can be rolled up to save space, it fits into any travel bag. The elastic, breathable high-tech memory foam ensures that the pillow retains its original shape even after unrolling. Thanks to the dirt-repellent carrying bag, the pillow remains hygienically clean, and you can wash the carrying bag and the pillow case with a commercially available detergent at 40 degrees Celsius.
Thanks to its elastic material, the BLACKROLL® RECOVERY PILLOW can be optimally adapted to your natural sleeping position and thus prevents tension in the shoulder and neck area.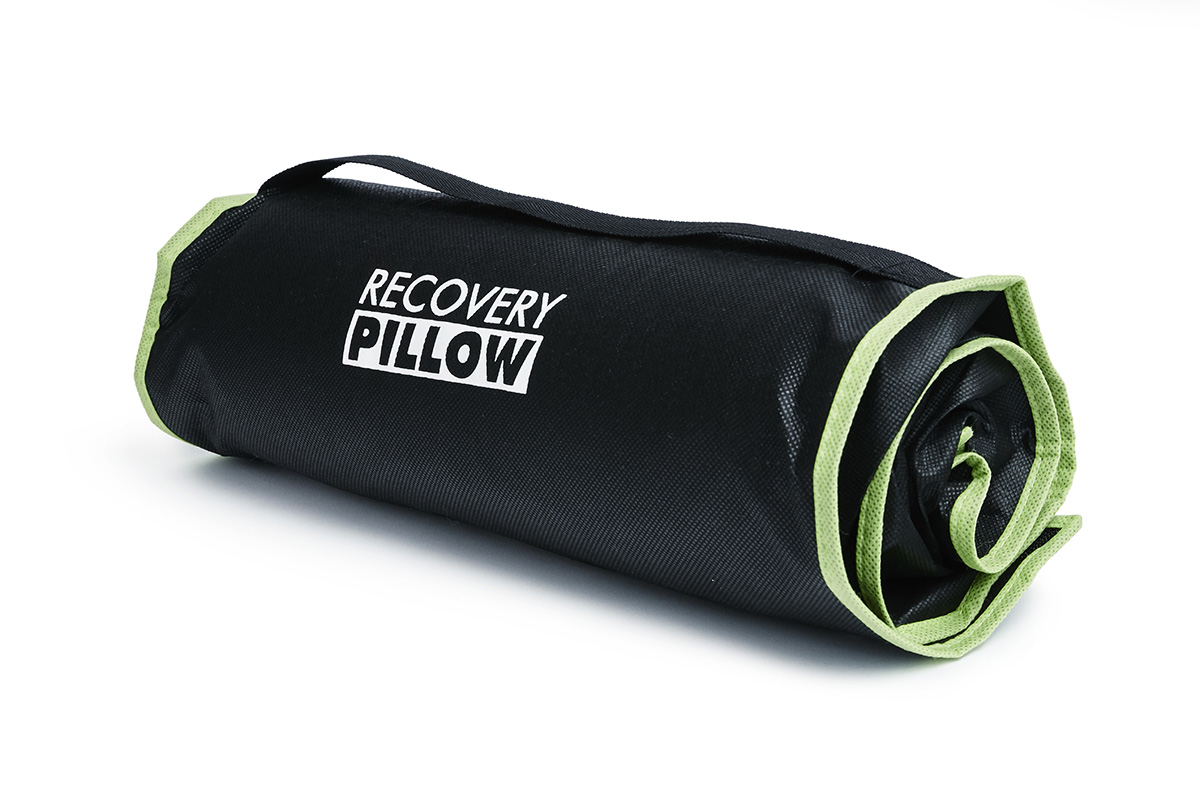 WHETHER SIDE, ABDOMINAL OR BACK SLEEPER: A PILLOW FOR ALL SLEEP TYPES

Sleeping and the position we sleep in are very individual and often are not to be influenced. Even though our recommendation is: Sleep on your back, because: sleeping on your back is the best sleeping position to relieve your shoulders and spine and to prevent a hyper-toned musculature.

The RECOVERY PILLOW is usable in 4 different variations. Let us explain the different positions:

Position 1
Low head height and low neck support. Highly recomended for persons who suffer of frequent aches and migraines. This position is ideal for stomach sleepers.
Position 2
For persons sleeping on harder mattresses or like a stronger neck support, turn the pillow 180° on the vertical axis. Suitable for backsleepers.
Position 3
Medium to high head height and medium neck support. Suitable for sidesleepers with narrow shoulders or persons who sleep on a soft mattress or topper with a pressure relief zone for the shoulders.
Position 4
High head height and high neck support. Suitable for sidesleepers with broad shoulders and persons who sleep on a hard mattress.
Try them and find the ideal pillow position for you!

WHAT MAKES THE BLACKROLL RECOVERY PILLOW SO SPECIAL?

Due to its breathable high-tech memory foam, the pillow is extremely dimensionally stable even after rolling out. The pillow case is washable to ensure the highest standards of hygiene. The breathable, fast-drying material consists of the finest ventilation channels, which ensure adequate ventilation of the pillow inside the foam core. With a size of just 50 cm x 30 cm, BLACKROLL® has developed an extremely effective, compact cushion that can be rolled up when traveling and stored in a handy cushion cover.
During production, BLACKROLL® remains true to its standard of using only environmentally friendly, pollutant-free materials for the manufacture of its products. The BLACKROLL® RECOVERY PILLOW is produced in Germany near Stuttgart and is certified according to the OEKO-TEX® STANDARD 100.
TIPS FOR A BETTER SLEEP ROUTINE: SLEEP BETTER AND RECOVER BETTER WITH BLACKROLL®

Routines help you to prevent sleeping disorders. In addition to the RECOVERY PILLOW, other BLACKROLL® tools can provide better recovery and healthy sleep. These include the BLACKROLL® DUOBALL and the BLACKROLL® MINI, which you can use especially before going to bed to relax better.
Start your daily sleep routine while brushing your teeth, for example, by massaging your soles for a minute with BLACKROLL® MINI or BLACKROLL® MINI FLOW. Start with your right foot before changing sides.

A gentle massage of the shoulders and back additionally promotes relaxation. The BLACKROLL® DUOBALL is the perfect massage tool in this respect. You can also use the DUOBALL to gently stretch your lumbar spine by placing the ball in the low back area while lying on your back. Put the BLACKROLL® RECOVERY PILLOW under your head to support your neck.
To stretch the lower back and full backline, you can also sit on the BLACKROLL® STANDARD with your legs stretched out. Then, carefully fold forward ("kiss your knees") while exhaling. Come back into an upright position with an inhalation. Breathing deeply and mindfully plays an important role in this process. The deeper you inhale and exhale, the better you will be able to relax.
By the way: due to its high tech memory foam material, the BLACKROLL® RECOVERY PILLOW is also ideal as a meditation pillow!
BOTTOM LINE

Those who sleep badly at night should consider to adjust to a routine that contributes to a restful sleep and better recovery. The BLACKROLL® RECOVERY PILLOW is ideal in this respect. You can take it with you wherever you go and combine it with the BLACKROLL® DUOBALL and BLACKROLL® MINI to relax before bedtime. Try it out and experience it yourself! We wish you a good night!